Helmet Hardtop®: Legacy Mid-Top
If you need additional cargo room our Legacy Mid-Top is the ideal solution. Our Mid-Top has been developed for
operations involving expanded payload requirements. With 18.5 inches additional cargo head room compared to our Standard Top, the Mid Top is popular as a maintenance contact and supply replenishing vehicle. The rear doors have a maximum cargo access opening of 51.5 inches by 59.8 inches.
• Permanent Solution to Canvas • Secured Cargo Space • Ideal Cargo Area Size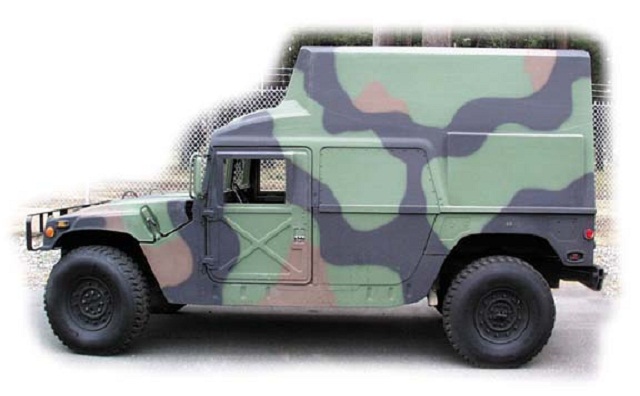 Mid-size fiberglass shelter
EMI shielding available
Hard points available
Cost effective upgrade from canvas
Secure storage
Lockable compartments
Lockable back door
Additional head room compared to canvas tops
CARC Finish; Desert Sand, OD Green, or Woodland Camo
Optional Bulkhead System
Includes Hard Composite doors
Optional Grandmas Attic
Optional Tailgate
Top Dimensions
Length: 122.5 inches
Width: 85 inches
Height: 32 inches
Weight: 417 lbs.
Crated Dimensions
Length: 133.5 inches
Width: 91.5 inches
Height: 48 inches
Weight: 832 lbs.
500 lb capacity on ribbed & reinforced roof
Amtech Cage Code is 0C8U3
Hardtop will fit hard & soft doors
Antennas are not provided
Hardtop can be reinforced for antenna mounts
Camo paint is available upon request
PRODUCT VARIATIONS (OD GREEN)
4551-2D
No Side Storage Compartments, No Windows, With Bulkhead, With Roof Vents;
Amtech Part 4551-2D-C
CARC Painted version of 4551-2D
Amtech Part 4551-1-2D
No Side Storage Compartments, No Windows, No Bulkhead, No Roof Vents;
Amtech Part 4551-1-2D-C
CARC Painted version of 4551-1-2D
4551-2-2D
With Side Storage Compartments, No Windows, With Bulkhead, With Roof Vents;
Amtech 4551-2-2D-C
CARC Painted version of 4551-2-2D
PRODUCT VARIATIONS (OD SAND)
4552-2D
No Side Storage Compartments, No Windows, With Bulkhead, With Roof Vents;
Amtech Part 4552-2D-C
CARC Painted version of 4552-2D
Amtech Part 4552-1-2D
No Side Storage Compartments, No Windows, No Bulkhead, No Roof Vents;
Amtech Part 4552-1-2D-C
CARC Painted version of 4552-1-2D
4552-2-2D
With Side Storage Compartments, No Windows, With Bulkhead, With Roof Vents;
Amtech 4552-2-2D-C
CARC Painted version of 4552-2-2D
Download Spec Sheet
Installation Instructions